I look at the step Aaron Gordon has taken early in the 2017-18 season.
If you had to guess who the NBA leader was in three-point percentage as of 11/12/17, who would you pick? Steph Curry? Damian Lillard? James Harden? Maybe Kevin Durant? Or would you be thinking of someone like Otto Porter, thriving off the drive and kick from John Wall? What if I told you it is none of the above and that it was Aaron Gordon…? Surprising, right? Well, ever since Coach Vogel of the Magic permanently moved him from SF to PF, Gordon took a huge step forward. In this write-up, I will be taking a deep dive into how Gordon has transformed himself into a pure athlete coming out of Arizona into an all-around, two-way player.
Scouting Report Leaving Arizona
Coming out of Arizona, Aaron Gordon was viewed as a raw player in terms of skill, but a pure athlete. He got nearly ~20% of his possessions from transition (even though he only shot 59% in transition averaging .93PPP) and made an absolute killing on off-ball cuts and putbacks in the paint, but showed very little in terms of shooting (29.3% on jumpers, 42.2% from the line, 50TS%) and a solid but not spectacular playmaking ability. He was also getting to the FT line at a good rate (.471FTr). However, his lack of jump shot was an issue and his horrible FT% made some question whether or not he would ever develop his jumper, as there is a correlation between FT% and one's shooting ability.
AG was a solid, not great defender, who had the quickness to switch onto perimeter players and defend them without needing help from other players on the team. He was a good, not great, defensive rebounder. He was also not a great shot blocker (3.4 block %) and was not particularly good at stealing the ball either (1.8 steal %).
AG's measurements did not light up the combine, as he measured in at 6'8.75 in sneakers, 220lbs, 6'11.75 wingspan, and an 8'9 standing reach – .25 above average for height, slightly below average weight (220 vs 221), average wingspan, and a below average standing reach. The athleticism testing is where he killed it. He had a max vert of 39 inches (+6 compared to average), 32.5 no step vert (+5.5), 12' max standing reach (+5.5), 10.81 on the agility testing (.9 seconds faster), and 3.27 in the sprint test (hit the average). So, even though he was not as long as other players, his explosive athleticism helped him cover for that.
All in all, he was a great athlete who showed some skills (off-ball cuts, rebounding, some playmaking, etc) but was very raw. Upon being drafted by Orlando, he was splitting time between SF and PF, even though he didn't have the skill set to play SF. At the time, I thought it was a weird decision that was not remedied until last year, when Coach Vogel made him a PF. Ever since then, he's taken a huge step forward.
Offense – 19 PPG, 2.5APG (1.5 turnovers), on 56% from the field, 55% from 3, 72% from the line, 67.5TS%, and 109.6 oRTG (6.1 above team's oRTG when he's on bench)
So, first, the bad – as athletic as AG is, for some reason his transition scoring needs work. He's averaging only 1.079 PPP on the break…which is oddly low. According to Synergy that is still considered "average," but accepting that as being sufficient would be the wrong way to go about it. He needs work finishing on the break…and that's about it that's been bad for AG on offense this season. Also, FT% needs a lot of work. You should not be shooting only 72% from the FT line…that's just work. I understand putting in a lot of work on shooting threes, but still…c'mon, man! Now for the good!
As I mentioned in the scouting report coming out of college, AG's offensive skill set was pretty limited in college to put-backs, cuts off ball, transition, and PnR / paint finishes. His jumper was nonexistent, his handle and playmaking ability was limited, but his athleticism, finishing ability, off-ball cutting, and PnR action translated nicely to the NBA. If you look at the chart below, his first few years had some pretty porous numbers and aside from cutting and paint finishing, he was not particularly useful. When he got the ball on the wing, opposing bigs (and wings when he was playing SF) would dare him to shoot it because his jumper was nonexistent. Last year, his jumper started to show some life. 233 of his possessions last year were jumpers, resulting in 183 points (.785PPP, 18th percentile). Even though he was not a consistent shooter, he was beginning to show life.
He also started to handle the ball a more in the PnR working on his playmaking ability, resulting in more than 3 times the amount of possessions in which he was the PnR ball handler. Last year, he was not efficient running the PnR when he was looking to score (.75PPP, 39th percentile) BUT when he was hitting the shooter or cutter his playmaking ability showed- 1.116PPP and the 92nd percentile. Overall (shots + passes), he's averaging 1.267PPP running the PnR which is the 96th (!!!) percentile. Between his playmaking ability and shooting confidence (even if it was misplaced), he showed that he was not simply an athletic cutter, but a more well-rounded player.
Enter 2017-18. His efficiency has skyrocketed all over the court and he looks much better (and more comfortable) playing PF this season. He went from .971PPP and the 61st percentile for overall offense in 16-17 to 1.222PPP and 97th percentile (!!! this number is 7th in the NBA of all player to have used 50+ possessions when he's the one shooting ) and 1.374PPP and the 89th percentile for possessions + assists. Those two numbers by themselves do a simple, yet great job, at showing how insanely efficient he has been this year. Whether or not that efficiency is sustainable is something to look out for at the end of the season, but even if it goes down a little bit, that is still a major improvement over the course of one offseason.
His three point % went from 28.8% to 55.3% on more volume (3.3 attempts vs 4.3) and his finishing ability within 0-3 feet went up from 68.3% to 88.9%. Something to take note of is his average distance shooting increased from 12.7 to 13.7, meaning he is taking more jumpers – 60%+ of his shots have come outside of 10 feet. The reason I bring this up is because if his jumper comes down to earth a little, which, realistically it will, I hope he recognizes this and starts to attack more. He has the handle and quickness now to take bigger and slower 4s off the dribble and should use this as a main point of attack even if his shot is not falling – he could use the drive as a threat to open up the three.
He's averaging 1.361PPP on spot ups (90th percentile) shooting 18/32, including 1.476 on no dribble spot ups and 1.556 on dribble jumpers. Shooting off screens he's at 1.714 (on 7 possessions, so small sample size), but it helps to show that he's shooting well regardless of situation.
Cutting off ball, he's at 1.615PPP good for the 92nd percentile. This isn't too surprising considering his great he has been since coming into the league at cutting off ball, but it's nice to see him keeping that efficiency high. If I'm the Magic, I'm looking to play him a little more off ball in some flex sets which would have him cutting from the low blocks (and just outside) across the lane. With his athleticism and finishing ability, he'll be able to keep finishing at a high percentage in the paint off those simple cuts. As the roll man, he's at 1.5PPP (92nd percentile) but the sample size is small (only 10 possessions).
The finishing ability is not surprising, but the fact that he's only been involved in 10 PnR where he's the roll man (compared to 23 where he's the ball handler) is surprising. It shows the level of confidence the Magic have in his playmaking ability, but also some weird calls on offense. AG is an elite tier finisher, and using him as the roll man not only sucks the defense in (opening up looks for threes in the drive and kick), but if he gets the ball in the paint, he finishes! I'm hoping the Magic increase the number of plays he's rolling because of the effect it has on the offense – either kicking to an open shooter because the defense collapses worrying about the pass to AG, or the Magic PG finds AG on the lob or with a nice lead pass. It's a no-lose situation.
Offensive Clips: In this first video, we simply see AG moving without the ball to the open spot when the defense collapses on Vucevic. Running backwards and immediately squaring up is a difficult thing to do, and AG makes it look easy here. The second clip, which was painful to watch as a Knicks fan, is, in my opinion, his most impressive shot this year (after the shot against the Nets from above). Again, this is a shot he could only dream of hitting a few years ago, and he makes it look so easy. Running full speed off a screen from Biz, catching, turning, squaring, and then letting it rip. These are the shots you see guys like Korver, Steph, and Klay take, and here you have a 6'9 PF taking and making the same shot with the same fluidity. This clip shows great spatial recognition from AG. As Augustin makes his way into the paint, AG moves to the corner because his defender is sticking with the baseline cutter. Smart movement to get the space, and a nice and quick catch and shoot.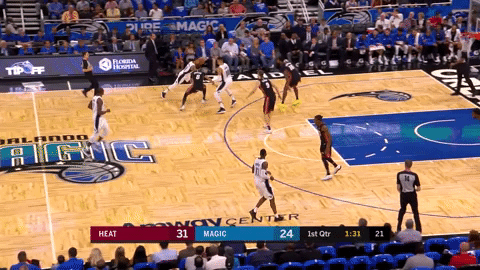 Just a little nice drop off pass to Biz. Why does this happen? Because James Johnson is forced to run out to AG at the 3 because of AG's ability to hit the long ball. Here we have a PnR with AG going away from the pick, hitting Vucevic with a nice bounce pass in between Dwight and Marvin Williams. This is just another example of AG's playmaking ability. Most PFs are not comfortable defending the guy initiating the PnR action as the ball handler (mind you, AG is). Even though this is not a play the Magic have been using time and time again, when they have, it has been effective. Simple drive and kick that all began because Robin Lopez had to chase AG off the three. His ability to hit from deep is really opening up the rest of his game (and, in turn, improving the Magic's offense). Simple PnR with Vucevic with the defense going way too far under the screen. AG makes them pay with his new range from three. This is why possessions like the one against the Heat and James Johnson happen – teams are forced to close out hard on him, allowing him to get into the paint for a drop off or a kick out (for an open shot, or starting a chain reaction of passes leading to a great look off the initial drive from AG).
Defense – .9 blocks, .8 steals, dRTG 103.5 (.9 better than with him on bench)
AG's defense has always been solid, but nothing spectacular. He was a good, not great, defensive rebounder, had the ability to switch in the PnR onto smaller players, and could guard perimeter oriented bigs, and was solid guarding the post ups. Most importantly, he rotated well on team defense. I believe last year was a big year in terms of his development on defense, too. Whether by design or not, by playing him at the 3 and defend more athletic and skilled wings, AG had to learn how to use his athleticism to its fullest ability. AG was guarding guys running off screen, guarding the ball handler in the PnR more, and had to work on closing out on shooters. He proved last year that he could guard perimeter players at a very high level, and the stats back it up. 60th percentile guarding PnR ball handler, 72nd on spot up, 83rd off screen, and 68th off handoff. All in all, he ranked in the 65th percentile for all of defense in 2016-17.
This year, playing the 4, AG has continued to play defense at a very high level. I think part of the reason why he has been so successful is because of his being forced to play out of position on defense last year at the 3. The way I see it, he was already a solid 4 defender coming into the league in man to man situations. Over the last few years, he has further developed those skills while at the same time improving his team defense. Not only is he better at guarding guys in various offensive sets, but he has continued to improve his rotations and help defense.
Overall, he is giving up .784PPP (77th percentile) on 32/75 shooting and scoring on 37.3% of all plays he's involved in. Although the shooting percentage is higher than teams would like, he is keeping the PPP low by forcing turnovers on more than 20% of the plays he is defending (16th in the entire league for players with 10+ defensive possessions and 6th for 50+). Obviously, this is a good thing turnovers don't give the offensive team a chance to rebound their misses and can often lead to fast break opportunities for the defensive team.
His perimeter defense guarding 3s from 16-17 has translated well to guarding 4s in 17-18. While defending perimeter oriented plays such as the spot up shooter and PnR where he's guarding the ball handler initiating the action, he's holding guys to .857 PPP (65th percentile) and .714 (68th percentile) respectively. His ability to switch onto the point guard and defend them well shows in the stats and in the video. He has the foot speed to stay with the smaller player and the size to contest the shots. His .857PPP guarding the ball handler in the PnR ranks 20th in the league for all forwards and centers in the entire league (with 10+ possessions guarding the ball handler).
On more traditional big man sets where he's guarding the post up, he is allowing only .273PPP (98th percentile – only 11 plays, but that accounts for 11% of the defensive plays). AG does a good job using his strong base to hold his position and not get backed too far into the paint where he would be useless and is able to use the length he has + athleticism to contest post ups. In guarding the big (roll man) in the PnR, he is only giving up only .5PPP (4 possessions). The reason the sample size is so small is because Orlando has the ability to switch him onto the ball handler because of his quickness.
Another area in which he is doing a very good job on defense (and does a great job at helping defend the ball handler is in the PnR (big defender). These plays entail a PnR where AG is guarding the guy setting the screen and AG either hedges and recovers onto his man, AG switches outright and ends up guarding the ball-handler, or another defender comes to help onto the big and AG is forced to recover elsewhere. This is a very difficult skill to master, because it requires AG to know exactly where the ball handler is, where his man is, and where the other offensive players on the court are – basically, total defensive recognition / awareness (defensive BBIQ). He is giving up only .65PPP and is ranked in the 79th percentile in defending these plays. His defense within 6 feet of the basket is at -10.4%, which is a very nice number and puts him in the one of the top tiers next to Giannis, Durant, and Dray Green. This just goes to show that rim protection and defending the paint isn't all about blocking shots and is more about bothering the opposition's shots. DeAndre Jordan, viewed by many as a top interior defender, is only at -.6 within 6 feet (I don't buy the idea that he's a great defender – his rotations are off and goes for pump fakes quite often).
Even though he is playing very well defense all over the court, as with all things, there is always something to improve upon. AG needs to continue to work on his isolation defensive skills. In watching him play, the one thing that I see is he can reach a little too much, causing him to get off balance – when this happens, the offensive player can see the shift and attack off the dribble. If AG learns to stay home more in defending isolation sets (using his feet, not reaching, and contesting at the right time – which he does in spot ups, so it should translate well in this situation as well), his ability to guard in isolation will improve tremendously. He is currently in the 28th percentile giving up 1.062 PPP in isolation sets – down from .927PPP and 45th percentile last year. I believe this is more of a technique issue and not an ability issue – meaning, this is something that, once pointed out by the coaching staff and drilled into his head, AG will be able to correct quickly. I'm expecting his PPP to drop as the year progresses.
Defensive Clips: Another clip shows his defensive versatility. Because the Magic know he has the foot speed and athleticism to stick with perimeter players, they easily switched this screen putting Gordon on Jackson. Watch as AG sticks with him the entire time and forces a turnover. Whenever you have a big who can switch onto a smaller player and still defend at a high level, your defense becomes much more potent. AG forces Jackson to his weak hand and eventually a turnover just by sliding his feet. There are not many PFs in this league who can switch onto smaller players and hold their own, but AG is one of them. This clip shows excellent positioning from AG in the PnR. He's close enough to the ball handler to take away the shot, but far enough back to get back to guard AD as the roll man. He sticks his hand in there at the right time and gets the steal. Excellent PnR coverage. Here we have AG guarding Tim Hardaway Jr, one of the Knicks' starting wings. Watch how he gets over the initial screen from Beasley and then again gets over the screen from Kanter (who, for all of his poor defensive ability and inability to score outside the paint, does set good screens). Even though this was not a perfect defensive possession (no contest from AG and didn't recover as quickly as he could have), this is a very good possession nonetheless of AG guarding a smaller and quicker player. Here, AG does a great job of forcing Smart to turn away the screen (watch AG's body position and how he's forcing him right – by the way, terrible defense from Biz here, who should be further left). He then gets back to Smart and prevents the drive, forcing Smart to take a step back jumper (which he missed).
Overall
All in all, AG has made a major transformation from year 3 to 4. His offense has taken a huge leap forward and his defense has continued to stay at an elite level. As I mentioned earlier, I will be looking at his shot going forward and whether or not he continues to stay as absurdly efficient as he is now – however, even if his three normalizes to around 40% (who knows, it might stay higher), the major improvement to his shot will have benefited the offense tremendously. His shooting has made it near impossible for defenders to sag off of him, which, in turn, forces them to play him close – with AG's quickness and athleticism, he is able to dribble past guys and either get to the rim for a finish, or collapse the defense for a drive and kick. It is also helping his ability in the PnR, as defenders are afraid of going under the screen out of fear that he will hit the jumper.
He has also been playing defense at an elite level this year, with only one minor area to improve upon – isolation (which, again, as mentioned above, I believe is more of a technique issue than a skill thing – something that can be easily corrected).
I think that AG will be looking at his first all star birth and a max contact in the offseason. He is without a doubt one of the most versatile, two way players in the NBA with the ability to guard 1-4 (and some small ball 5s) while stretching the court and creating plays for others from the 4 – he's a perfect 4 in today's NBA and is absolutely a cornerstone piece for the Magic. His improvement over this past season shows just how hard he works at his craft and I am incredibly interested to see how he will continue to progress going forward.